Gawahi Kaise Totti, Muamla Khuda Ka Tha
---
Gawahi Kaise Tootti, Muamla Khuda Ka Tha,
Mera Aur Uska Rabta To Haath Aur Dua Ka Tha.
Gulab Qaimat-E-Shaguft, Shaam Tak Chuka Sake,
Ada Wo Dhoop Ko Hua, Jo Qarz Bhi Saba Ka Tha.
Bikhar Gaya Hai Phool To Hum Hee Se Pooch Guchh Hui
Hisaab Baghbaan Se Hai Kia Dharaa Hawa Ka Tha,
Lahoo Chashida Hath Us Ne Choom Ker Dikha Diya,
Jaza Wahan Mili Jaha Marhala Saza Ka Tha,
Jo Barishon Se Kabal Apna Rizq Ghar Mein Bhar Chuka,
Woh Sheher-e-Moor Se Na Tha Door Bais Balaa Ka Tha..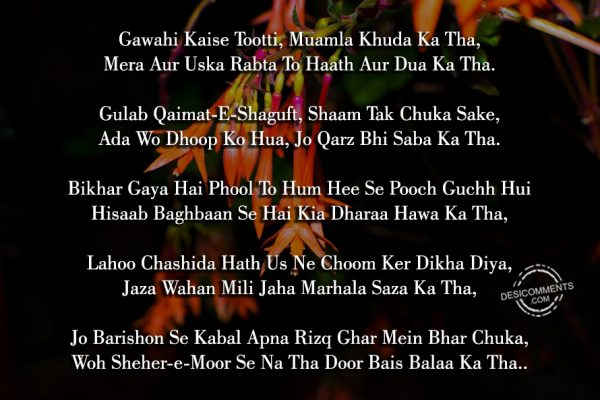 More Entries