Mohsin Naqvi Shayari
Thakan se raah mein chalna muhaal bhi hai mujhe,
kamaal par bhi tha main hi zawaal bhi hai mujhe.
Sadak pe chalte hue ruk ke dekhta hun main,
yahin kahin hai tu ye ehtimaal bhi hai mujhe.
Ye mere gird tamasha hai aankh khulne tak,
main khwaab mein toh hun lekin khyaal bhi hai mujhe.
Ussi ke lutf se marne se khauf aata hai,
ussi ke dar se ye jeena muhaal bhi hai mujhe.
Sawaad-e-shaam-e-safar hai jalaa jalaa sa 'munir
khushi ke saath ajab sa malaal bhi hai mujhe.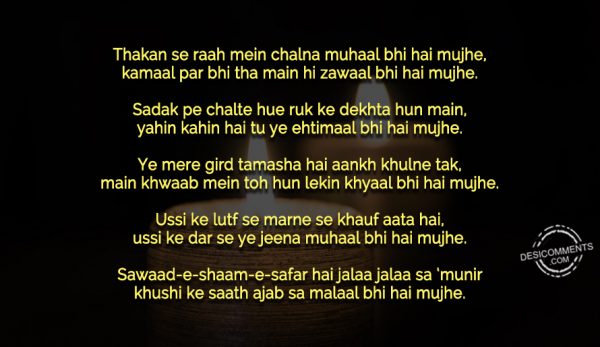 Sadkon pe beshumaar gul-e-khoon pade hue,
Peddon ki daaliyon se tamaashe jhade hue,
Kothon ki mamtiyon pe haseen buut khade hue,
Sunsaan hain makaan kahin dar khula nahin,
Kamre saje hue hain magar raasta nahin,
Veeraan hai poora shehar koi dekhta nahin,
Aawaaz de raha hun koi bolta nahin.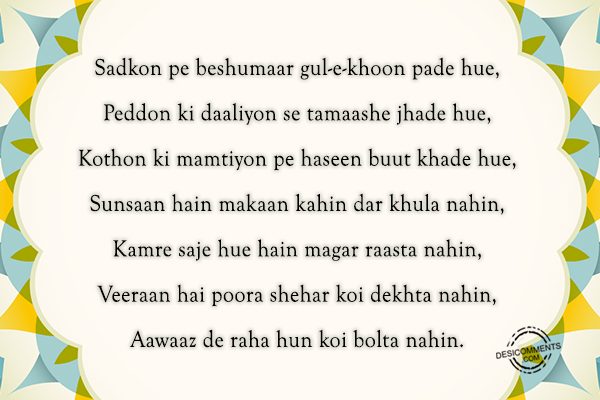 Tujhse bicharr kar kya hoon main, ab bahar akar dekh,
Himmat hai to meri haalat, aankh mila kar dekh,
Shaam hai gehri, tez hawaa hai, sar pe khari hai raat,
Rasta gaye musafir ka ab diya jalaa kar dekh,
Darwaze ka paas aa aa kar wapis murrti chaap,
Kaun hai iss sunsaan gali main, paas bula kar dekh,
Shayed koi dekhne wala ho jaye khairaan,
Kamre ki deewaron par koi naqsh bana kar dekh,
Tu bhi Munir ab bhare jahaan main mil kar rehna seekh,
Bahar se to dekh liya, ab andar jaa kar dekh..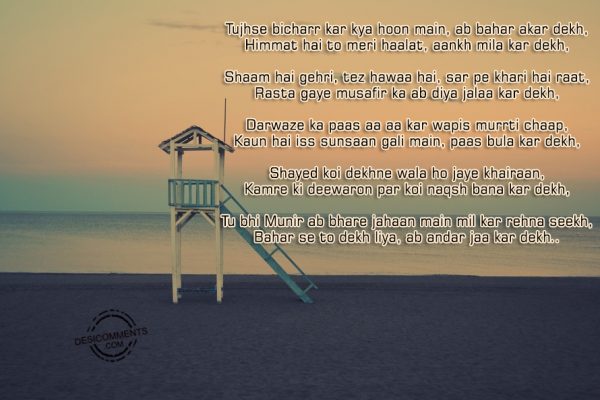 Usse Paana, Usse Khona, Ussi Ke Hijr Mein Rona,
Yehi Gar Ishq Hai Mohsin, To Hum Tanha Hi Ache Hain.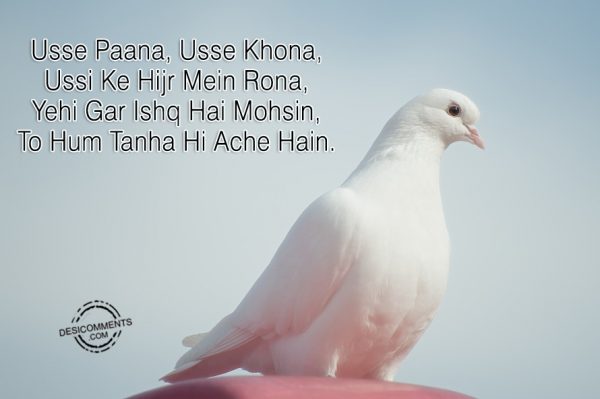 Wo rootha rootha sa lgta hai
koi tarkeeb btao pass aane ki ?Mohsin?
Main zindgi girvi rkh skta hoom
tum qeemat btao usey manane ki.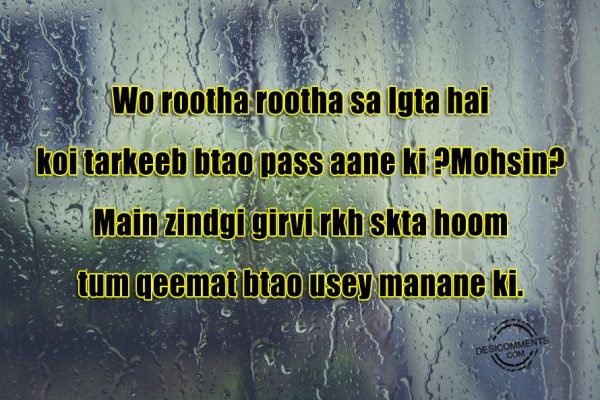 Zoq-e-Deed Mein Hai Takleef har Roz Sara'sar
"Mohsin"
Ache rehte Hn Wahi Log Jo Mohabbat Nahi Karte.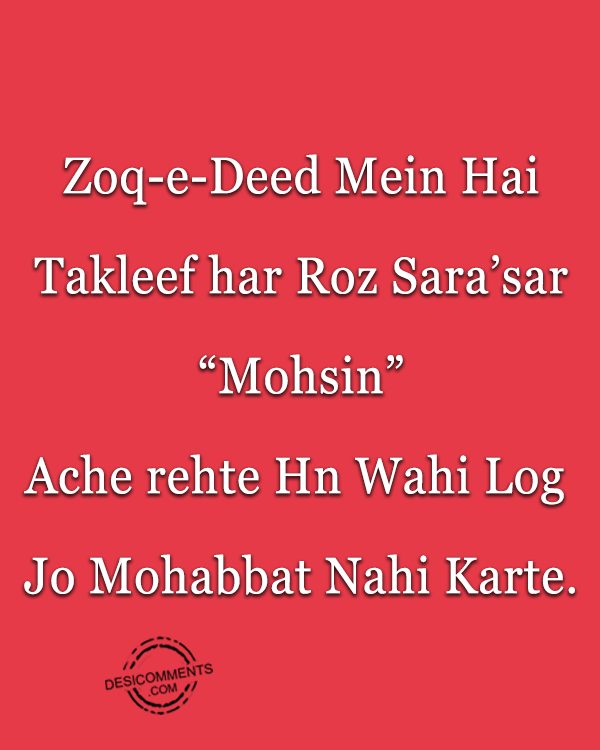 Yun Wafa Ke Silsilae Musalsal Na Rakh Kisi Se Mohsin
Log ik Khata Ke Badly,Saari Wafaein Bhool Jaate Hain.!!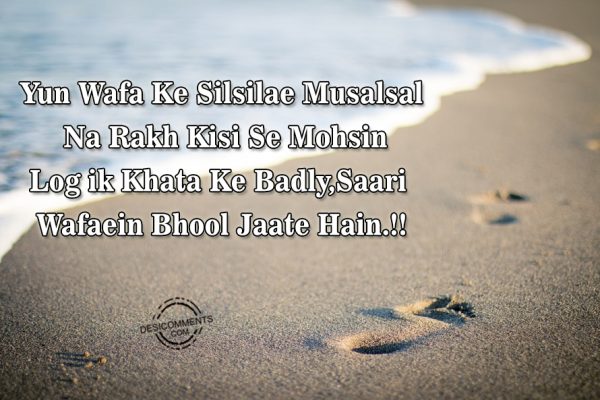 Mumkin hai tere baad bhi aati hon gi baharen Mohsin
Gulshan main tere baad kabhi ja kr nahi dekha.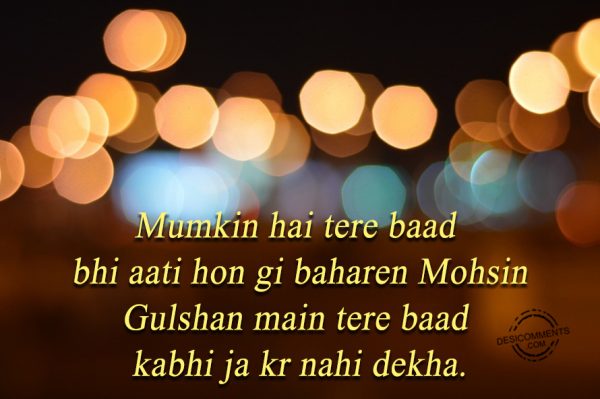 Bhool jana to rasm-e-duniya hai Mohsin,
Tumne bhool kar konsa kamaal kar diya.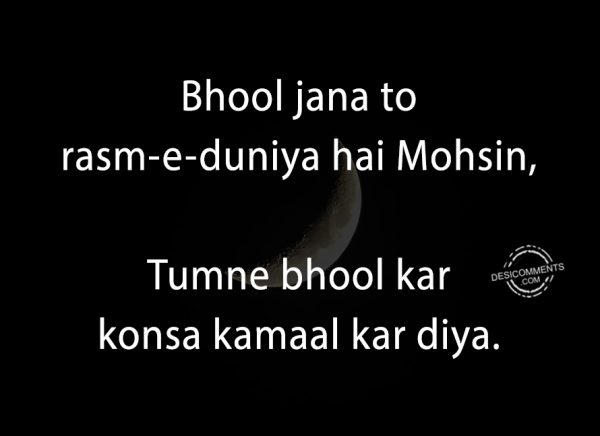 Na jago raat bhar 'MOHSIN' meri mano to soo jao,
Ye 'Khawabidah Nazr' phir kal kisi ko maar Dalegi.