Habib Jalib Shayari
Dil ki baat labon par lakar ab tak hum dukh sahate hain,
hum ne suna tha is basti mein dil wale bhi rehte hain,
bit gaya savan ka mahina mausam ne nazaren badali,
lekin in pyasi aankhon mein ab tak aansu behte hain,
ek hamen aawara kahana koi bada ilzam nahi,
duniya wale dil valon ko aur bahut kuch kahate hain,
jis ke khatir shahar bhi choda jis ke liye badnam hue,
aj wohi hum se begane begane se rehte hain,
wo jo abhi rahguzar se chak-e-gareban guzra tha,
us aawara divane ko 'jalib'-'jalib' kahate hain.
Jilib Kiya hai ishq to shikwa na kar jamane ka,
Bayan hua to gaya husn us fasane ka.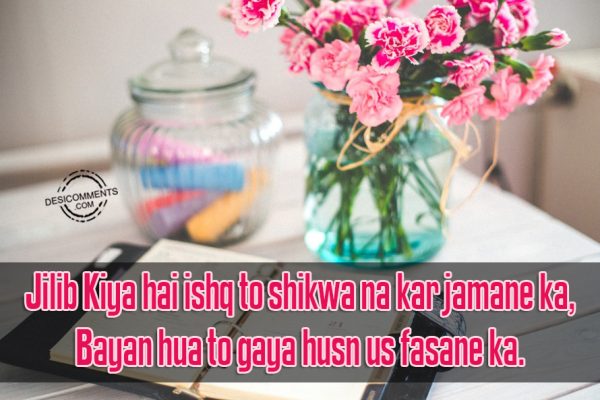 Is shahar-e-kharabi mein gam-e-ishq ke mare,
zinda hain yahi baat badi baat hai pyare,
ye hansata hua chand ye purnur sitare,
tabinda-o-painda hain zarron ke sahare,
hasrat hai koi guncha hamen pyar se dekhe,
araman hai koi phul hamen dil se pukare,
har subah meri subah pe roti rahi shabanam,
har raat meri raat pe hanste rahe tare,
kuch aur bhi hain kam hamen ae gam-e-janan,
kab tak koi ulajhi hui zulfon ko sanvare.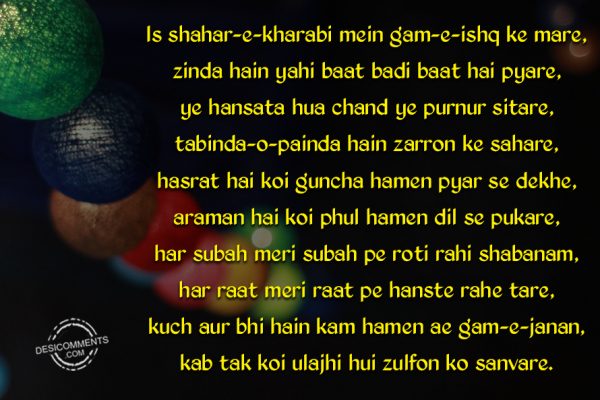 Aansoo bhi hain aankhon mein,
duaayen bhi hain lab par,
Bigdey huye halaat sudhar kyo nahi jate.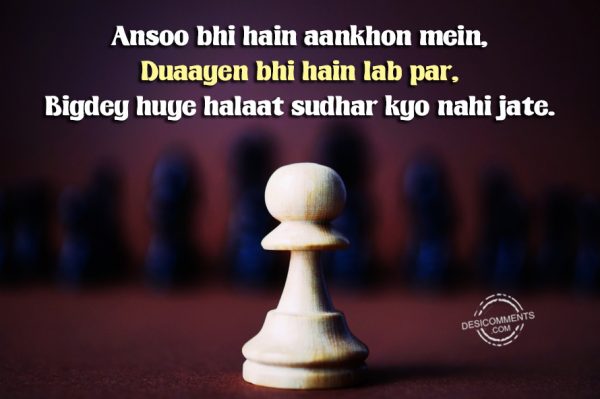 Ye aur baat teri gali mein na aayen hum,
lekin ye kya ki shahar tera chod jayen hum,
muddat hui hai ku-e-butan ke taraf gaye,
aavaragi se dil ko kahan tak bachayen hum,
shayad baqaid-e-zist ye saat na aa sake,
tum dastan-e-shauq suno aur sunayen hum,
benur ho chuki hai bahut shahar ke faza,
tarik raston mein kaheen kho na jayen hum,
us ke bagair aj bahut jee udas hai,
'jalib' chalo kaheen se use dhundh layen hum.