Ab To Apni Haalath Hi Kuch Aisi Hai
---
Ab To Apni Haalath Hi Kuch Aisi Hai,
Saas Bhi Leta Hu To Zakhmo Ko Hawa Lagti Hai.
Suno Ya Na Suno Awaaz Meri Ye Dil Ki Sada Hai,
Zaalim Tu Ne Jo Diya Dard Usme Bhi Wafa Lagti Hai.
Sochta Hu Kuch Pal Bita Lu Khushiyo K Magar,
Haye !Afsos Ab To Har Khushi Bhi Gum Lagti Hai.
Jiyu To Kaise Jiyu Teri Yaado Ko Baaho Me Sametkar,
Teri Kasam Ab To Aks Ko Ye Zindagi Bhi Saza Lagti Hai.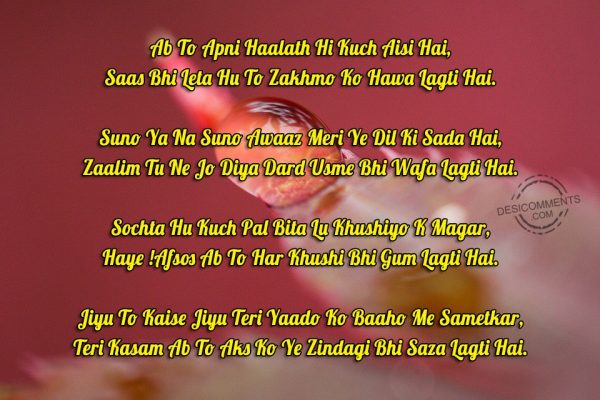 More Entries