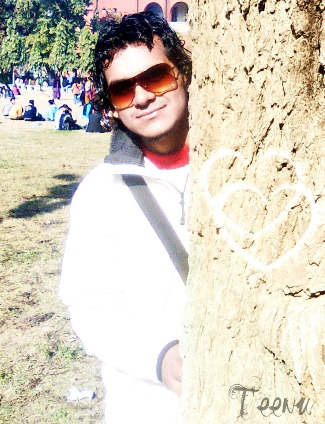 Full Name
Teenu
Nick Name
Teenu
Location
Gazipur, Adampur (Jalandhar)
Facebook Profile
rajteens1@gmail.com
A word that describes you best?
Cooooooooooooooooollllllllllll..!8)
Email
raj_teens@yahoo.in
Do you enjoy scary movies?
Yes, of course…$:o
When was the last time you said "i love you" ?
When I come 2 knw d meaning of luv dn I realized hw mch love I do with my parents……….;)
Last time you cried your heart out?
Don't remember, 😮 No comments mere rabb warge yaaro..
Dream job?
Act as a model…….!:o
Most embarrassing moment?
Kehri dassan bht ne so m sorry I can't tell cz dis vl be d nxt embarrassing moment 2 tell u……..
Are you afraid of the dark?
Nooooo never ever…kyun k me me enna gora haan k hnere vch v chanan ho janda hai……!
Biggest achievement?
To became a part of DesiComments.com
Biggest regret?
I don't hv any regret yet cz m perfect…………
Met the love of your life yet?
Yes….u wanna knw……..ok I'll tell I met vd my love in my life wn I was born nd my first love whom I met is my mom……..dekhia tuc ki sochia na na me kurian piche nahi janda…
Your biggest fear?
My biggest fear is 2 lost my relations dat I never think……
Do you drive fast?
No..vary slow only 40-50 speed maja onda chaal ke..!
What do you like most about yourself?
I like myself hor ki chahida….
The one thing you would like to change about yourself?
M perfect so I don't want any change…
Is anyone in love with you?
Soooooooo many people may be mostly girlz hahahahaha
Are you in a complicated love situation?
May be or may b not……? Me kyu dassan tuc kehra help karni meri..!
If you had a super power, what would it be?
If I had a super power I would like 2 remove d discrimination in our people….nd make realize dat we all are equal……
If you are asked to work in a movie, which star would you co-star with?
Me khud star banaga me kyun kise da co-star bana kiven da swal puchia tuhanu khud te yakin nahi hona bt menu hai……..!!!!!
Last book you read?
Shiv Kumar Batalvi ji..
If you are marooned on an island you would like to be with?
Obvious yaar……………..sch a silly question.
Things that annoy you?
Yaadein…………yaadan teriyan..!:(
Money or Love?
Money if it can ever consummate a love that can keep up his play as long as you want and u can.
What do you want more than anything right now?
Give blessings to all and receive blessings 4rm all nothng else…..
Favorite movie of all time?
3 Idiots,,Jaan-e-Mann,,Yaara Naal Bahara
If someone tells me "I love you..", I am likely to…
Ask" how it's ur love whether u play vd one going to left or left center ".
If someone tells me "I hate you…", I am likely to…
Say " thanx a lotttttttt cz u r d first person in my life who said 2 me dat I HATE U ".
If I meet GOD I would…
Say" Rabba pyar na Karin pachtayenga asin te mar k tere kola a jana tu kithe nu jayenga".
How much time do you spend online daily?
jadon dil udaas hunda os time beith janda ha yaaro..
Favorite destination in the world?
Rangla Punjab in jalandhar.
Any thing more about you..?
change chahe made halat vich rahki, menu mere maalka okaat vich rahki….kise nu dukh na devo..kyu ke..god lives in the hearts..
gud luck 2 all……..!!!!!