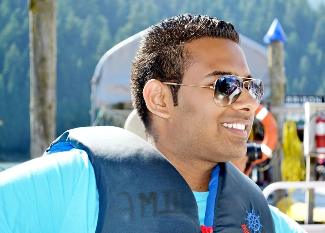 Full Name
Sharandeep Singh Dhaliwal
Nick Name
Sharan sharan kehnde ne
Email
[email protected]
Location
Hun lagda CANADA v MAL SINGH WALE warga..
Facebook Profile
Facebook profile of Sharan Dhaliwal
Do you enjoy scary movies?
Yes…
What is love?
Jo pani wang pavitar pyar taan usnu kehnde ne…
Last time you cried your heart out?
Loki hanjuan cho parh lainde naa ease layi asi rona chdta…
Met the love of your life yet?
No…koi parwah ni sanu gore kale rang di..changi hove dil di te thoda hove sangi..
Your biggest fear?
Maa te Rabb agge sir sareyan de jhukde
When was the last time you said "i love you" ?
Kade ni……
Is anyone in love with you?
Mainu taan ni lagda…
Are you in a complicated love situation?
Apan taan ikk pasa hi karange..haan ja naa
Are you afraid of the dark?
Dar ke jeena v koi mitro jeena ae???
Biggest achievement?
To became a part of DesiComments.com
Do you drive fast?
Putt jattan de shaunki hunde ford, bullet te jeepan de…
What do you like most about yourself
Munda khand de khidone warga, thodi thodi much futdi..akhan zehri, tikhe j nakk
wala, roop ohda mare lishka…
jado hsda jaan kad lainda….kudiyan ch gallan hundiyan…;)
Last book you read?
Don't remember
Favorite movie of all time?
Bahut ne…..
Money or Love?
Ho gya paise modi ajj kal..dil diyan gallan piche reh gayiyan, sacha pyar, mohabatt
sabh sohni de naal veh gayiyan..
If someone tells me "I love you..", I am likely to…
Are you serious???:O
If someone tells me "I hate you…", I am likely to…
J koi mere bare puche keh devi koi khas nahi c
Favorite destination in the world?
Labhni ni mauj punjab wargi…
How much time do you spend online daily?
Sadi online langhdi dihadi aa…
Any thing more about you..?
Koi kehnda adab aa te koi kehnda velly aa,
hun ki samjhiye lokan nu eh taan jatt di jeevanshell aa
Meri soch awaragard jehi, fir oase gali vich ghumdi ae…jithe gaddi sooli mere
layi oas shehar de raste chumdi ae..
parda kajj layi sayiyan meri changi mandi da…
Aakhde ne loki k garoor vich rehne aa…asi taan g apne saroor vich rehne aa…