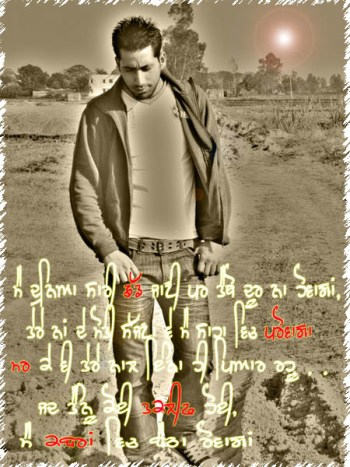 Nick Name
Rinku Bal
Email
srinku883@yahoo.com
Location
Jalandhar
A word that describes you best?
I'm a good person. Nice, honest, loyal, thoughtful, .. and I'm actually a very shy person. When I was a kid, I used to blush when talking to girls, although I got over that later. Anyway up to now, I'm quiet and shy around people I've just met………..!
Do you enjoy scary movies?
No Never…….!
When was the last time you said "i love you" ?
Said it to my mom last night for the first time..After an argument she say I know you don't love me but I love you so much and I said no you are wrong I love you too..
Last time you cried your heart out?
Brother de abroad jan te.
Dream job?
Number one in 3d animation field
Most embarrassing moment?
Haale tak koi v nhi…
Are you afraid of the dark?
Yeah………..!
Biggest achievement?
Yet to come. Wait n watch.
Your biggest fear?
God….
Do you drive fast?
No :p
What do you like most about yourself?
My unbreakable spirit no matter what the situation.
Brain, kindness, smartness, well the talent of designing, n umm..wat else??
The one thing you would like to change about yourself?
Shyness. I'm shy when it comes to talking to girls. Because you don't know what to say or what to do.
If you had a super power, what would it be?
Something I would honestly always think is useful though, time travel. I want to re-live my best moments and take back all of the bad ones. Life's unpredictable. I know that without all the bad moments I wouldn't be who I am today but I often ask the question "what if".
If you are asked to work in a movie, which star would you co-star with?
Akshay kumar.!
Last book you read?
The Adventures of Robinson Crusoe ………..!
Things that annoy you?
People saying sorry when they don't mean it, when I'm seriously upset and being told that I'm just tired.
Favorite movie of all time?
Kal ho Na Ho, Shooter, 3Idiot My Name Is Khan……..!
If someone tells me "I love you..", I am likely to…
Depends on the situation..
If someone tells me "I hate you…", I am likely to…
Smile…
If I meet GOD I would…
ask: "Do you have a gender? Do you prefer He or She"….!
How much time do you spend online daily?
Didn't clock myself. (Once a prof. in college asked me "How many times do you go to the Girls Hostel?" The answer was on similar lines "I dint count".)
Favorite destination in the world?
Macleodganj, Dharmshala….!
Any thing more about you..?
Koi na jaane, rang maalak de, kdo ki ton ki kr jawe..
Raaje nu oh krde mangta, te mangta takht bithawe..
Khaak jini aukaat na meri, maithon uppar eh jag sara..
Na hi mere vch gun koi, mera daata e bakhshan-haara..