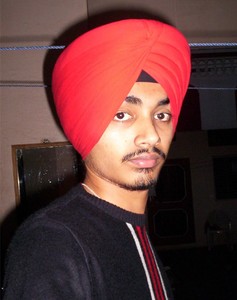 Full Name
Pritpal Singh
Nick Name
Prit
Email
Pritsuraj@yahoo.co.in
Location
Mahilpur(Punjab)
Do you enjoy scary movies?
No, I don't like scary movies.
When was the last time you said "i love you" ?
Not Yet
Last time you cried your heart out?
I don't know
Dream job?
Computer networking
Are you afraid of the dark?
Yes
Biggest achievement?
To Be A Part Of Desicomments.com
Biggest regret?
Nothing
Met the love of your life yet?
No
Your biggest fear?
Snakes
Do you drive fast?
No
What do you like most about yourself?
My turban
The one thing you would like to change about yourself?
My Hesitation.
Is anyone in love with you?
My parents
Are you in a complicated love situation?
No
If you had a super power, what would it be?
Remove the poverty.
If you are asked to work in a movie, which star would you co-star with?
Salman Khan
Last book you read?
I don't know..I read so many book in a day.
If you are marooned on an island you would like to be with?
My friends
Things that annoy you?
I Hate Liars, Cheaters.
Money or Love?
Love
Favorite movie of all time?
Mera pind my home
If someone tells me "I love you..", I am likely to…
It depends on mood
If someone tells me "I hate you…", I am likely to…
Thnx….. ha….ha
If I meet GOD I would…
Ask him to remove all wrong things in the world
How much time do you spend online daily?
2-3 hours
Favorite destination in the world?
My village
Any thing more about you..?
Meet me and you'll know about me