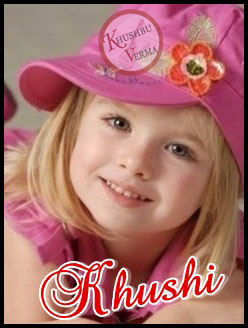 Full Name
Khushbu Verma
Nick Name
Khushi
Location
Patiala
A word that describes you best?
Creative
Do you enjoy scary movies?
Ya
When was the last time you said "i love you" ?
Never
Last time you cried your heart out?
hmm never
Dream job?
To become the best creative designer
Most embarrassing moment?
hmmmmmm :p
Are you afraid of the dark?
No ,never.. bcoz maine kabhi darna nahi sikha …:)
Biggest achievement?
When everyone says me that "You are a most creative or talented girl .."
and when my parents says "We are proud of you sweety "
Biggest regret?
Nothing
Met the love of your life yet?
Not yet 🙁
Your biggest fear?
Maine Darna nahi sikha bcoz darr k aage jeet hai 🙂
Do you drive fast?
Ya sometimes
What do you like most about yourself?
I love myself.. main apni fav. hu ..
The one thing you would like to change about yourself?
Nothing Hum to jaise hai vaise rahenge ab koi khush ho ya ho khfa hum nhi
badlenge apni ada:)
Is anyone in love with you?
Hmmmm …I don't know 🙂
Are you in a complicated love situation?
No, never
If you had a super power, what would it be?
To b a supergirl ..wanna give smile to everyone .wanna help poors
If you are asked to work in a movie, which star would you co-star with?
Ranveer Kapoor
Last book you read?
Pearls of wisdom
If you are marooned on an island you would like to be with?
With my Lucky Boy ..my dream boy ..
Things that annoy you?
Selfishness
Money or Love?
Love
What do you want more than anything right now?
Acoustic guitar
Favorite movie of all time?
Veer Zara, Chup Chup k,H.A.H.K ,Hum dil de chuke sanam ,i lyk comedy movies too..
If someone tells me "I love you..", I am likely to…
But i don't:)
If someone tells me "I hate you…", I am likely to…
Thanku ..with a gr8 smile..:) coz koi jitna hate krega hum utne hi ache bnenge
..
If I meet GOD I would…
I would thank him .and say…"Jitna diya mere malik tune mujhe utni meri aukat
na thi ye to karam hai tera varna mujh main to aisi koi baat na thi ..i love u
god thank u so much ..
How much time do you spend online daily?
No fix time …:)
Favorite destination in the world?
India ..(mera bharat Mahaan ) I love my country so much ..and i love my Punjab. m proud to be Indian and proud to be Punjabi girl ..
Any thing more about you..?
I m gentle, dreamer, senstive and last but no least m an artist ..