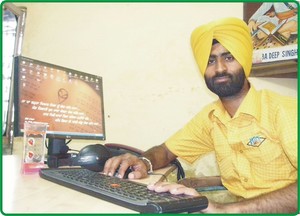 Full Name
Manjinder Singh
Nick Name
Honey
Email
manjinder_sondh@yahoo.com
Mobile
9646424142
Location
Amritsar
Do you enjoy scary movies?
No, Not At All
When was the last time you said "i love you" ?
I Am Not Such A Lucky Guy.
Last time you cried your heart out?
When I Got My Degree (Bachelor In Computer Application)
Dream job?
Where I Feel Satisfaction That May Become My Dream Job.
Are you afraid of the dark?
No. I love Darkness.
Biggest achievement?
To Be A Part Of Deiscomments.com Is A Biggest Achievement For Me.
Biggest regret?
My biggest regret is that i did not get admission in MCA.
Met the love of your life yet?
No
Your biggest fear?
I Don't Want To Loose My Close Friends.
Do you drive fast?
Occasionally, But Speed Is My Passion.
What do you like most about yourself?
My Turban Style.
The one thing you would like to change about yourself?
My Hesitation.
Is anyone in love with you?
I Don't Know.
Are you in a complicated love situation?
No
If you had a super power, what would it be?
If I Really Have A Super Natural Power Then I Want To Do Something For My Country.
If you are asked to work in a movie, which star would you co-star with?
Obviously, Katrina Kaif
Last book you read?
"Three Mistakes Of My Life"
If you are marooned on an island you would like to be with?
If I Have A Girlfriend Then I'll Be With Her, Unfortunately I Am Alone.
Things that annoy you?
I Hate Liars, Cheaters.
Money or Love?
Both Are Part Of Life. You Know That "Money Hai To Honey Hai".
What do you want more than anything right now?
Don't want to disclose
Favorite movie of all time?
Tum Bin, Tere Naam, Fanaa, Titanic
If someone tells me "I love you..", I am likely to…
It Depend On The Time.
If someone tells me "I hate you…", I am likely to…
I Will Ask The Reasons.
If I meet GOD I would…
Ask To Give Me A New Branded Laptop With High Speed Internet Connection. Ha Ha Ha.
How much time do you spend online daily?
Minimum One-Two hrs daily
Favorite destination in the world?
I Am Living In A Village, I Love My Home Town Very Much.
Any thing more about you..?
I Am Very Conscious About My Better Future.