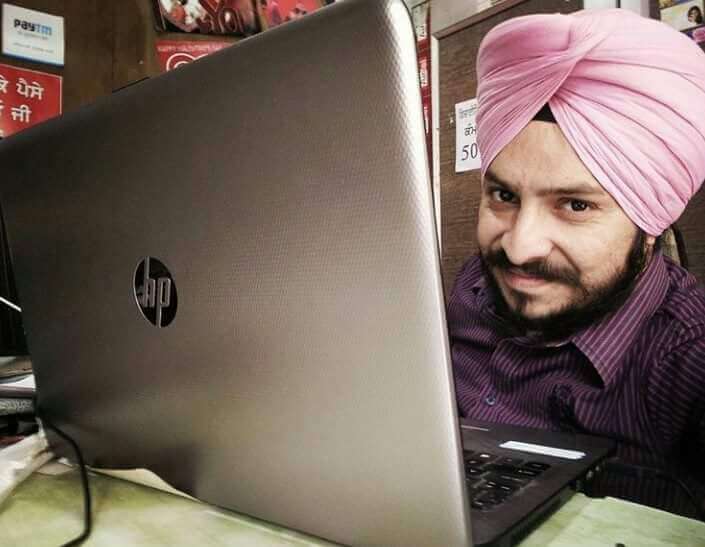 Full Name
Gurvinder Singh
Nick Name
Rajan
Email
gurvinderpatialvi@gmail.com
Facebook
http://www.facebook.com/gcsprinting
Instagram
http://www.instagram.com/gurvinder.singh.patialvi & http://www.instagram.com/gcs_printing
Location
Patiala
Do you enjoy scary movies?
Yeah…
When was the last time you said "i love you" ?
A few minutes ago 🙂
Last time you cried your heart out?
Sister di marriage te..
Dream job?
To become number one designer.
Are you afraid of the dark?
No, I enjoy it 🙂
Biggest achievement?
Designing of a silver coin – 300 Saal Guru De Naal.
Biggest regret?
I wanted to do Law but could not do due to some reasons.
Met the love of your life yet?
No, still searching…..
Your biggest fear?
God
Do you drive fast?
Yeah avg speed = 60-70 kmph 😀
What do you like most about yourself?
Ability to make others happy.
The one thing you would like to change about yourself?
I am absent minded..
Is anyone in love with you?
Many 🙂 but not sure whether I love them too :p
Are you in a complicated love situation?
No…
If you had a super power, what would it be?
Would like to eradicate poverty.
If you are asked to work in a movie, which star would you co-star with?
Kajol
Last book you read?
I don't have time to read books 😀 too busy doing work on Internet :p lol
If you are marooned on an island you would like to be with?
wife ofcourse [ searching till now :)]
Things that annoy you?
When some one interfere in others personal life.
Money or Love?
Both have own importance
Pyaar ta gharo bada mil reha hun paise di lodd hai 🙂
What do you want more than anything right now?
Friends on whom I can rely upon
Favorite movie of all time?
Lamhe – Anil Kapoor
Pinjar
If someone tells me "I love you..", I am likely to…
Be shocked 😮
If someone tells me "I hate you…", I am likely to…
Find a reason why some one hates me.
If I meet GOD I would…
Like to hug him.
How much time do you spend online daily?
4-5 hours.
Favorite destination in the world?
Star Cruise – A ship
Any thing more about you..?
If you want to know more about me try finding my emotions in my pictures 🙂