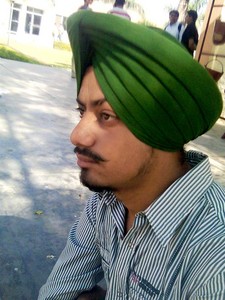 Full Name
Gursharan Singh Dhanjal
Nick Name
GURI ludhianvi
Location
Ludhiana
Email
gursharanzz.1899@gmail.com
A word that describes you best?
Conservative, receptive
Do you enjoy scary movies?
Yeah, I usually watch 'em at night with headphones on my ears.. Best one i like is MIRRORS
When was the last time you said "i love you" ?
Exactly 8 months, 2 weeks and 4 days..
Last time you cried your heart out?
On the very that day…
Dream job?
Work as a Illustrator in UBISOFT, Montreal (Canada)
Most embarrassing moment?
Not encountered yet..
Are you afraid of the dark?
Nahi ji GURU de SINGH haan.. assi ta Hakma to ni darde… Hanera ki cheez a…
Biggest achievement?
Sold out one print of my Artwork at www.deviantart.com, worth 20$..
Biggest regret?
None
Met the love of your life yet?
Nope
Your biggest fear?
The Almighty
Do you drive fast?
Yes, Astronomically…
What do you like most about yourself?
My Helpful Nature, Raw talent which needs to be polished…
The one thing you would like to change about yourself?
Senstivity…
Is anyone in love with you?
Haven't tested this one, but i think there are some…
Are you in a complicated love situation?
No, and never want to…
If you had a super power, what would it be?
Being Invisible, I can help the minorities easily…
If you are asked to work in a movie, which star would you co-star with?
Myself..
Last book you read?
GAZAL di Ada -> Late: Deepak Jatoi
If you are marooned on an island you would like to be with?
My LOVE…
Things that annoy you?
Same old repetitive work..
Money or Love?
Both are necessary… Can't leave anyone of 'em
What do you want more than anything right now?
A good animation teacher..
Favorite movie of all time?
A Walk to remember, Curious Case of Benjamin Button, ISHQ
If someone tells me "I love you..", I am likely to…
Marry that someone..
If someone tells me "I hate you…", I am likely to…
Kick that someone…
If I meet GOD I would…
Je Rabb hi mil geya fir ki chahida…
How much time do you spend online daily?
Not Specific.. depends on the free hours. Average of 3 hours.
Favorite destination in the world?
My home
Any thing more about you..?
I'm the future of Game Art (Designing)…..
the future of Concept Art…. A Freelance Artist and want to be a Games Designer…
You can see the work here…
www.guri-ludhianvi.deviantart.com