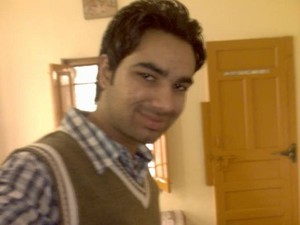 Full Name
Arshdeep Singh
Nick Name
Arsh
Location
Kokri Kalan (Moga)
A word that describes you best?
Love
Do you enjoy scary movies?
Yes
When was the last time you said "I love you" ?
Nope
Last time you cried your heart out?
When my own hurts me. .
Dream job?
Software Engineer.
Most embarrassing moment?
There are many but can't mention here….
Are you afraid of the dark?
No
Biggest achievement?
Haven't achieved it yet…
Biggest regret?
No regrets…
Met the love of your life yet?
No
Your biggest fear?
God
Do you drive fast?
No
What do you like most about yourself?
My Behavior
The one thing you would like to change about yourself?
My Heart
Is anyone in love with you?
No
Are you in a complicated love situation?
No
If you had a super power, what would it be?
I wish i could read people's face
If you are asked to work in a movie, which star would you co-star with?
Anushka Sharma.
Last book you read?
A Punjabi novel "Jindgi chaldi rahi".
If you are marooned on an island you would like to be with?
Bipasha Basu.
Things that annoy you?
Those people who torcher the poor peoples.
Money or Love?
Love
What do you want more than anything right now?
Faster Internet Connection.
Favorite movie of all time?
Rab Ne Bana Di Jodi.
If someone tells me "I love you..", I am likely to…
I love you 2….
If someone tells me "I hate you…", I am likely to…
But I love you ….
If I meet GOD I would…
I would told him to Bless Everyone.
How much time do you spend online daily?
Approximately one hour per day.
Favorite destination in the world?
Mera Pind
Any thing more about you..?
I likes to play Kabaddi & Football