Search Results - jutti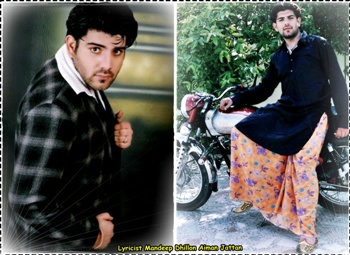 Full Name
Mandeep Dhillon
Nick name
Lyricist Man Dhillon
Location
Hoshairpur (Punjab)
Facebook Profile
Facebook profile of Mandeep Dhillon
Do you enjoy scary movies?
Yes
When was the last time you said "I love you" ?
Right now :):)
Last time you cried your heart out?
2 din pehla
Dream job?
I want to become a famous Punjabi lyricist
Are you afraid of the dark?
Hanere nal tanhayiyan nal yarane dhillon de pakke ne
Biggest achievement?
To become a part of Desicomments.com
Your biggest fear?
God (( par oh meri mannda hi ni kde ))
Do you drive fast?
Main aje koyi beema ni kraya
What do you like most about yourself?
Kise da v dard main likh k byan kar sakda han ,,
beshak koyi dhillon di muat te ikk hanju v dilo
na rove par fir v main sajjna lyi marr sakda han
The one thing you would like to change about yourself?
Main nahi changa bura nahi koyi
rabb karke ohnu meri omar v lagg jave
jisdi aakh mere lyi c kde royi
Is anyone in love with you?
Yes
Are you in a complicated love situation?
No
If you had a super power, what would it be?
Punjab vicho dera bad khatam kar k sare babeya nu army ch bharti kraga te sab di border te duty la dwaga tan ki a babeya nu sache dilo rabb yadd aa ske
If you are asked to work in a movie, which star would you co-star with?
Gabbar and amrish puri g de nal
If you are marooned on an island you would like to be with?
Je thand hove othe tan ikk geezer te ikk heater nal reh lawaga ,,
J garmi hove tan fridge and A.C. nal reh sakda han
Money or Love?
Sajjna de pyar bina dhan v bekar a,
A Man v bekar ohda tan v bekar a,
What do you want more than anything right now?
Chain te skoon bhri jindgi
Favorite movie of all time?
Hashar a love story
If someone tells me "I love you..", I am likely to…
Main kahuga k beeba aapna ilaj kra kise chajj de dr. ton,,
If someone tells me "I hate you…", I am likely to…
Nafrat karan wale jine jada hon ona hi insan khud nu sudahr sakda hai
Last book you read?
Don't remember
If I meet GOD I would…
Rabba j tu ameer bnane c tan greeb na bnada,
Je greeb hi bnane c tan a ameeran nu na bnada ,
Fir na koyi ameer greeb nu pair di jutti samajda
Na koyi greeb ameeran da mahal dekh aapni kulli dhaunda
How much time do you spend online daily?
12 ton 14 hrs
Favorite destination in the world?
Punjab
Pics submitted by Mandeep Dhillon Aimana Jattan
Send this picture in E-mail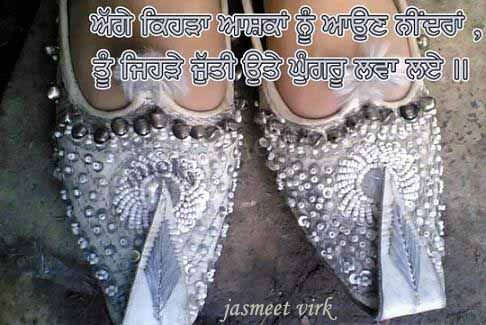 This picture was submitted by JASMEET VIRK.
HTML Code for Myspace, Hi5, Tagged, Friendster:
Use this BB Code for forums:
Category
Punjabi